More About Us
Sunshine Mermaids is supported by three women on the Board of Directors who have learned to exhibit confidence, integrity, and respect through pushing their personal limits. Their experiences throughout life have driven them to help young ladies learn to push themselves, learn leadership, and learn to be more aware of their impact. Whether its a day camp or an over night camp, the girls form lifelong friendships that keep them coming back for more adventures.
As a 501(c)(3) non-profit our proceeds have benefited city and county parks, 10 local entities, and 11 non-profits including:
American Association of Suicide Prevention
Joan Kroc Center
Girls Empowerment Camp
Play it Safe
La Mesa Parks
San Diego Humane Society
Want to donate to our 501(c)(3) non-profit?
All donations are tax deductible!
Donations can be made via PayPal by clicking below.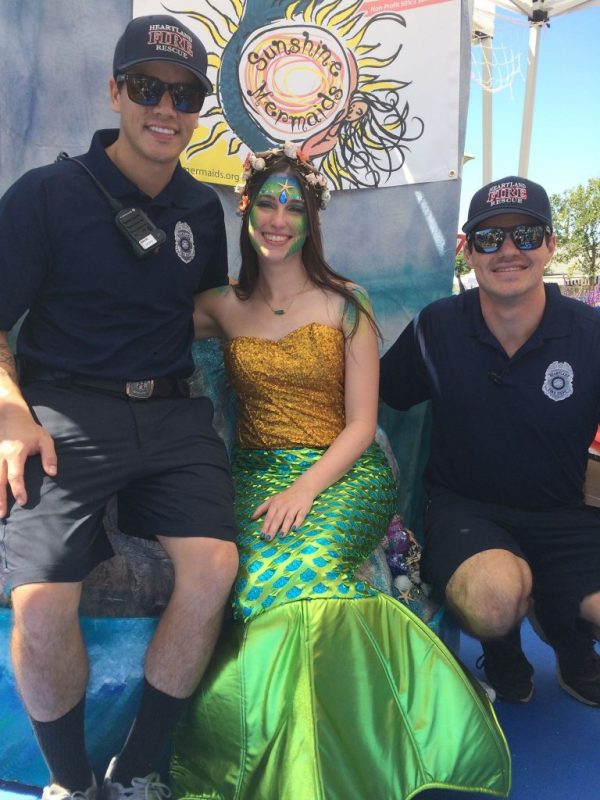 Our Staff and Volunteers
All Camp Counselors and Volunteers have been trained and received a certificate through American Camp Association, are certified in Adult and Pediatric CPR and First Aid and have passed a Background Check via LiveScan (same background check required for school employees)
Jessica Harned

Jessica is the Camp Director in charge of scheduling awesome camp adventures, training and instruction, logistics, and camper public presentations.
Jessica has a Bachelor of Science degree and is an EMT instructor. She has been teaching diving and snorkeling to kids for over 15 years.
Previous to Sunshine Mermaids, Jessica worked as the Director of Public Safety for Diving Unlimited International and as a Park Ranger for County Parks.
Kristie Reece
Kristie is the Lead Camp Counselor for the Sunshine Mermaids MerLittle Group (ages 5 – 6).
Krisite has been an integral part of quite a few nonprofits and now enjoys her role as camp counselor with Sunshine Mermaids.
More about Kristie coming soon…
Raquel Torres

Raquel is the Lead Camp Counselor for the Sunshine Mermaids MerPrincess Group (ages 7 – 9).
Raquel has been with Sunshine Mermaids since the very beginning. In addition to being a Lead Camp Counselor, she also helps out with outreach and marketing. She loves helping the campers reach their full potential…especially with painting and kayaking.
Raquel is currently going to school for child development.
Ashley Janni

Ashley is the Lead Camp Counselor for the Sunshine Mermaids MerLady Group (ages 10 – 12)
Ashley is an EMT and part of the Army National Guard.
When she is not splashing around with Mermaids, Ashley enjoys swimming, reading, and playing with her dog.
Ashley is currently going to school for Applied Science.
Steve Eisen

Steve is the Lead Camp Counselor for the Ocean Knights Adventure Camp for Boys.
Having been a camp counselor for years in college, Steve joins Ocean Knights to help in the development of a strong program geared to give boys character strength, perseverance, and a touch of chivalry.
More about Steve coming soon…